Motoo Marumaru on the
Charm of Shizuoka's Nightscape
Striving to Be One of the "Japan's New Three Most Spectacular Night Views" –
The Amazing Potential of Shizuoka's Nightscape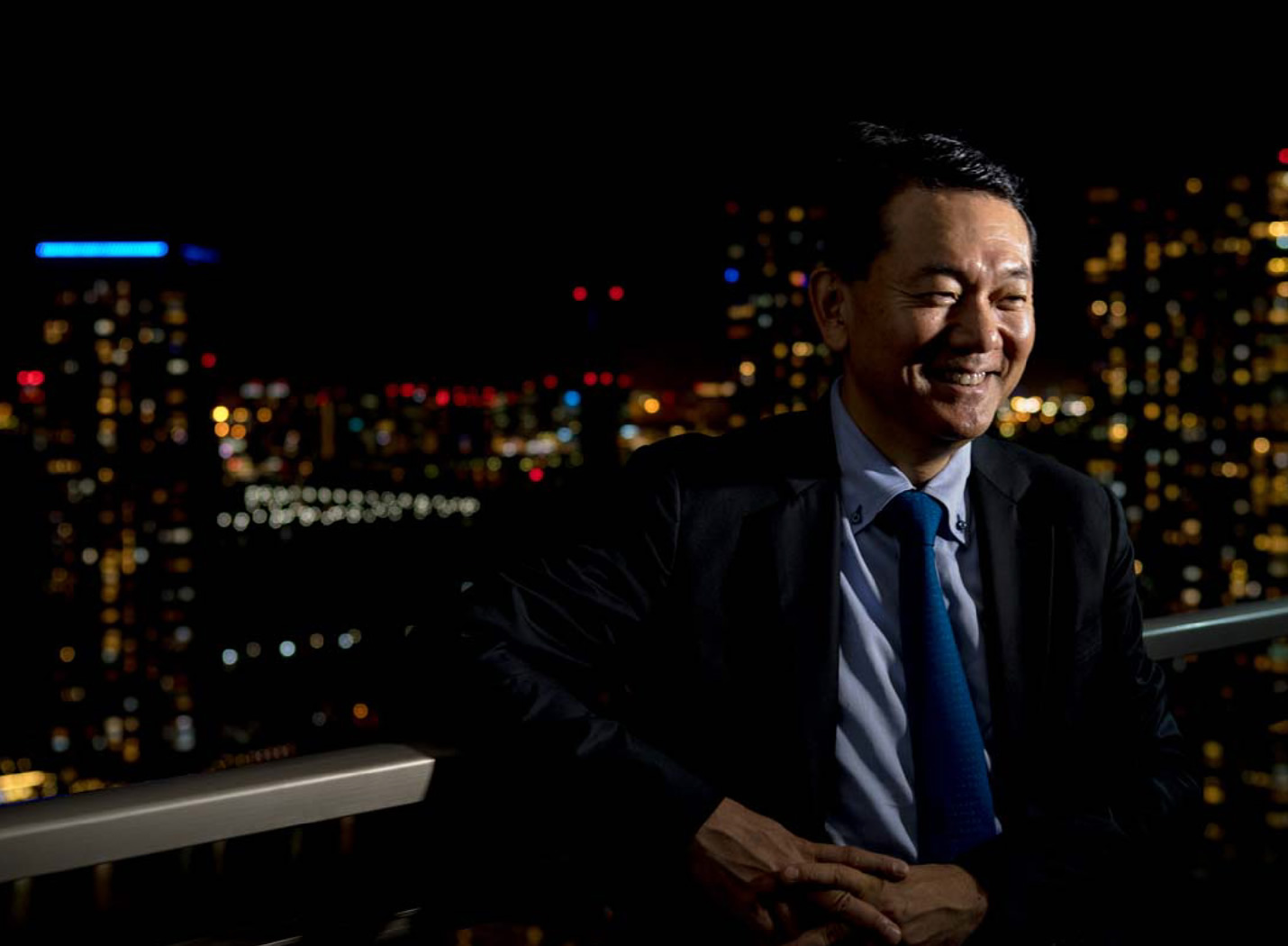 Shizuoka was probably the prefecture I visited the most in my twenties to see night views.
While the Shin-Tomei Expressway had not yet been built, it was still possible to reach some of the most beautiful places in Shizuoka from Tokyo within two hours. One of the best examples is Nihondaira in Shizuoka City. Below, the lights of Shimizu City twinkles in the bay area leading from Miho Matsubara, and the orange sodium lights of Okitsu Wharf create a contrast. However, what makes this place so great and unique is probably the towering Mt. Fuji in the background. At night when the moon is shining and the snow is falling on the top of the mountain, it forms a beautiful silhouette in the darkness. Although Mt. Fuji can be seen during the daytime even from Tokyo, the only way to see this beautiful mountain at night is to come here. Nighttime Fuji can also be seen from the Izu Skyline, with the trinity of the richly curved city, the sea, and the mountain making it top class.
And as I became more deeply involved in nighttime sightseeing in my 30s, 40s, and 50s, I began to notice the depth of Shizuoka City's night views. For more details, please read the Shizuoka Night View Concept Page, which is based on the results of a night view tourism resource survey conducted in 2020. Aside from Shizuoka City's unique night view with Fuji at night, there are a variety of colorful night views featuring large panoramas, wharves, lights, urban areas, places for seeing the Big Dipper, retro lodgings, and spots with differences in elevation, making it truly a "night view city colored by Japan's best and miracles." Its charm is by no means inferior to that of Nagasaki, Sapporo, and Kitakyushu, the cities with the Japan's New Three Most Spectacular Night Views.
The city was ranked 10th in the nation in a 2019 poll for the New Three Great Night Views of Japan by night view tourists but is expected to make further progress in future re-approval polls.
On top of PR efforts that take advantage of the characteristics of Shizuoka's nightscape, the number of Japan Night View Heritages to be recognized will be increased. With the branding of Japan 100 Moon and the Three Great Night Views of Fuji, it will not be long before the city is selected as one of the Japan's New Three Most Spectacular Night Views.
Motoo Marumaru

Night view critic/producer and illumination producer
Director of the General Incorporated Association YAKEI Convention & Visitors Bureau.
Born in 1965, Marumaru graduated from the Department of Tourism, College of Sociology at Rikkyo University. He published Tokyo Yakei in 1992, beginning his career as one of the only night view critics in Japan. While critiquing and studying the beauty of nightscapes, he has delved into constructing his own "study of nightscapes," which highlights the essence of a night view based on color psychology and landscape studies.
He is the only person in the world to have simultaneously set three Guinness World Records for staging night views: (1) the world's largest geoglyph created by lights, (2) the world's largest sculpture with lights, and (3) the world's largest water surface projection mapping. He has written more than 50 books on night views, the most recent being Japan's Night View Heritage: 15th Anniversary Edition (Kawade Shobo Shinsha) and The Best of Japanese Illumination (Kosaido). He has served as a Night View Tourism Advisor in Kobe, Yokohama, Nagasaki, Kawasaki, Shunan, Ashikaga, Hiroshima, and Sapporo. He is the general supervisor of the Night View Tourist Certification. Involved in Japan's first factory night view cruise, he has won the Kanagawa Tourism Award. He has produced many illuminations per year, such as the Geo Illumination in Fukui, TOKYO MEGA ILLUMINATION at the Oi Racecourse, Tokyo, APA Resort Joetsu Myoko Illumination in Niigata, Mojiko Retro in Fukuoka, Kokuura Illumination in Fukuoka, and Huis Ten Bosch in Nagasaki, and dozens of other locations. He has also lit up many places including Dejima; Oura Tenshudo, a national Treasure; Nakamachi Church; and Kitakyushu Iron Tree.
*Registered trademark "Night View Critic" No. 4408194
*Lighting consultant (certified by the Illuminating Engineering Institute of Japan)
*Ambassador for the Boy Scouts of Saitama
[Motoo Marumaru's Super Night View Site]  
http://www.superyakei.com
[Night View Convention & Visitors Bureau]  
http://www.yakei-cvb.or.jp/
Nighttime Events